Back To Our Services
Today's garage doors located in Sausalito real estate usually make use of two main types of garage door springs. These garage door springs in Sausalito include torsion and extension springs, both of which have their definite pros and cons. Extension springs are used more frequently for single stall garage doors, while torsion springs can be used in any type of residential garage door setup. Torsion springs are usually safer to work with, and only involve one spring that is placed above the overhead track, whereas extension springs require two.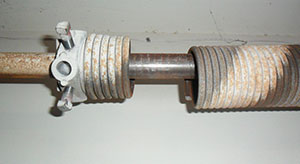 Garage door problems need timely resolution as they could pose potential safety and security risks to your family. You can depend on our company to provide the help that you need as fast as we can. We are confident that we can fix any problems that you may have with your garage door. Our experience, skills and dedication would ensure that your issue is resolved quickly. You'll have your garage door working perfectly again in no time. We have partnered with the top brands in the business so we can offer you top quality and affordable garage doors and garage door parts.
Our company works on galvanized garage door torsion springs
There are numerous types of repairs that you might find that your Sausalito garage door springs could be in need of, including the following:
Broken spring repair
Extension springs repair
Torsion spring repair
Fix garage door spring
Replace torsion spring
Broken spring replacement
Spring repair and maintenance
If you have noticed that your garage door just isn't opening and closing as easily as it used to, the springs may be the culprit. To figure out what the damage is for certain, however, it's best to call our team of professionals for a thorough evaluation. This will help you to identify where the damage lies.
During this initial consultation, you can learn more about the different types of garage door springs in Sausalito, and figure out whether your springs have snapped or are in need of replacement. It's not recommended to attempt this replacement on your own, as garage door springs can be finicky. Paying for professional help can actually save you time and money in the long run, because you can be assured that the job will be done the right way the very first time. This will keep your garage doors working at their peak level of operation for years to come.
Back To Our Services